Vulekamali in the Free State
Join us as we take  
www.vulekamali.gov.za
to yet another province – this time we travel to the heart of the karoo! The high-lying Free State province also happens to be home to the highest percentage of the South Africa's grain production at 70%.
Between 25 to 27 July 2019, National Treasury,  IMALI YETHU and Free State Provincial Treasury, will be hosting Civic Information Drives in the Free State. These include a two-day CSO Budget Literacy training and a one-day #BetterBudget Dataquest, which is an opportunity for you to collaborate with other creatives and those who are interested in public-spending, as well as to do something that could contribute to your community's upliftment and long-term well-being.
The Civic Information Drives play an important civic engagement role in understanding the needs of citizens in relation to Government budget information. Many of the features now visible on Vulekamali were suggested at these civic engagements.
Vulekamali in Kwazulu-Natal
Between 26 and 28 November 2018, IMALI YETHU and the National Treasury invited other civic actors and government departments to Kwazulu- Natal for a series of events to promote awareness of and engagement with vulekamali.gov.za in the province. And what a vibrant three days it was!
Represented by IMALI YETHU Lead Coordinator, Zukiswa Kota, National Treasury's Director of Budget Reform,  Andisile Best, and OpenUP – the vulekamali team ended the last of the 2018 events on a decidedly positive note.
A briefing event took place in Pietermaritzburg on 26 November 2018 targeting government officials in the main. The objective of the session was to engage important public sector stakeholders and to demonstrate vulekamali.gov.za. We also intended to specifically explore provincial budgets, to promote openness and explore opportunities for broader (public) participation during the budget processes.
We were able to showcase resources available to assist with budget literacy training and awareness-raising. The  session was hosted in  Pietermaritzburg at the Department of Cooperative Governance and Traditional Affairs' Disaster Management Centre.
One 27 and 28 November, we hosted a DataQuest and Hackathon  in Durban.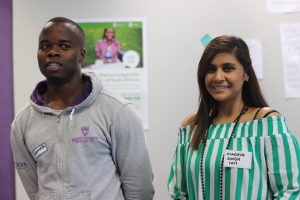 The Budget Data Quest aimed to bring together a diverse audience to explore their budget analysis and advocacy needs.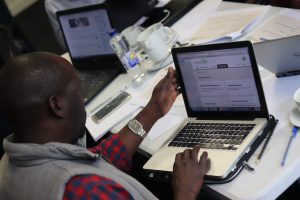 Insights were varied and came from a diverse range of participants; civic actors, public officials, budget analysts, social workers, non-profit managers and data analysts.
The Budget Hackathon assembled participants with a wide array of  skills (technical and otherwise) and problem solving abilities, with the ultimate goal of exploring solutions to budget analysis and advocacy problems. Participants are encouraged to work in teams to determine and identify solutions to problems emanating from the Dataquest.
Targeted skills include budget analysis, budget advocacy, public finance management, data wrangling, programming and creative writing. The focused, problem-solving approach of a hackathon complements the exploratory discussions in the Data Quest.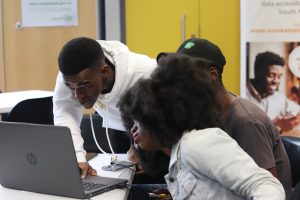 Vulekamali is launched
On 21 February 2018 Zukiswa Kota spoke to the SABC about the launch of Vulekamali.
On 20 February 2018 the VULEKAMALI Open Budget Portal for South Africa was officially launched at a briefing in Parliament. Media articles covering the launch include: https://www.enca.com/south-africa/gigaba-launches-online-budget-data-portal
Online portal gives South Africans a way to send e-tips to finance minister
On 1 February 2018 Dr Kay Brown from National Treasury appeared on SABC's Morning Live to discuss the results of the Open Budget Index (OBI) 2017 and the collaboration between National Treasury and IMALI YETHU to develop the Open Budget Portal now called Vulekamali.
BACKGROUND
Following the official commencement of the project to develop South Africa's online budget portal in August 2017 – much has happened. The progress has  been exciting to witness.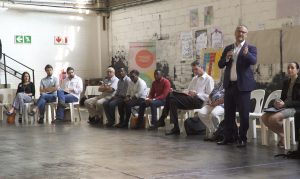 In September 2017,  the first data quest to inform the development of the portal took place in Pretoria. The data quest brought together experts from government, civil society, media, academia, private sector and technical communities to unpack how to make Treasury's budget information accessible to all South Africans in order to promote citizen engagement.
Five parallel sessions were run and 27 topics were discussed. The topics covered a wide range of areas ranging from the capacity of government systems to how communities can access budget data in low-technology environments. Sessions were convened by participants and tended to be self-organised.
A short YouTube clip giving a snap shot of the data quest is viewable here. The most recent progress update issued by National Treasury on the development of an Open Budget Portal is available here.